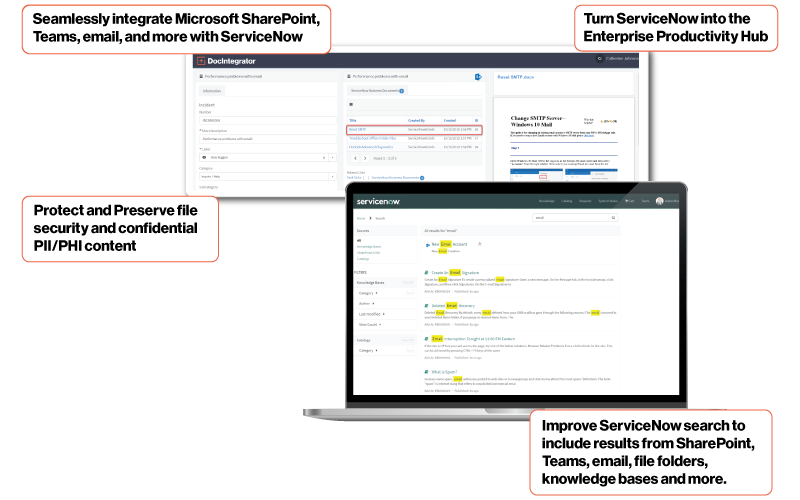 Enterprise Content Management for ServiceNow
Connect ServiceNow to Microsoft® SharePoint for a seamless enterprise content management experience in any ServiceNow application.
Seamless Content Management
Connect ServiceNow to Microsoft® SharePoint with DocIntegrator to seamlessly integrate disparate sources of content including:
Create, collaborate, review, search, and sign documents inside any ServiceNow application (Tasker, HRSD, PPM, SPM, CSM, ITAM, ITSM, GRC, etc.) — without ever opening SharePoint in a new browser window or tab.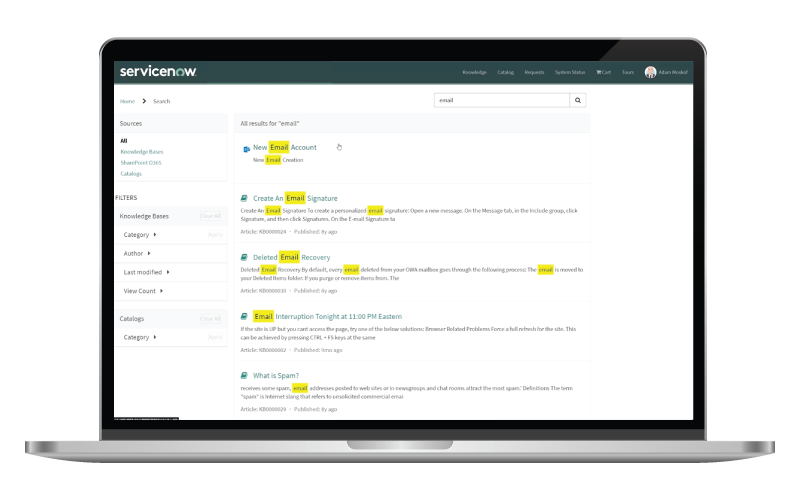 One Place Where All Search Lives on ServiceNow
DocIntegrator easily connects a myriad of cloud and on-premise sources and solutions to ServiceNow search, eliminating the need for expensive search appliances, disparate patchwork of custom built solutions, and product licenses outside of ServiceNow.
DocIntegrator search capabilities bring secure enterprise federated search to ServiceNow. Results can be filtered and refined to find the right content within the right source, making search relevant and actionable.
Discover Increased Productivity
Make working with SharePoint documents seamless without ever leaving ServiceNow. Collaborate on documents together in real-time inside ServiceNow, custom ServiceNow solutions, or Tasker.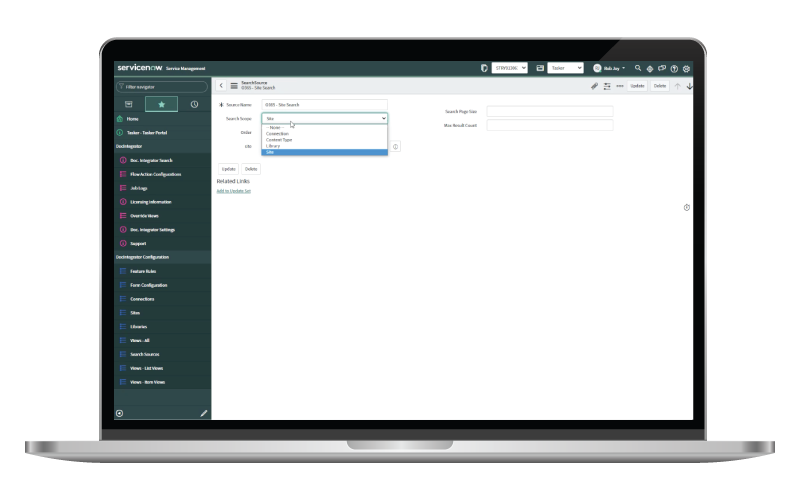 Comparison: DocIntegrator vs ServiceNow SharePoint Spoke
ServiceNow customers are saving precious development time and money with DocIntegrator instead of building out limited functionality with ServiceNow's SharePoint Spoke API set. The table below highlights some of the key feature differences between the two options organizations have when connecting Microsoft SharePoint with ServiceNow. The DTech Apps development team is adding new features on a regular basis, which are unlocked with each product update.
| | | |
| --- | --- | --- |
| | SharePoint Spoke API set | DocIntegrator |
| Compatible with SharePoint 365 (Online) | | |
| Compatible with SharePoint 2019 (On-Premise) | | |
| Compatible with SharePoint 2016 (On-Premise) | | |
| Compatible with SharePoint 2013 (On-Premise) | | |
| Attach SharePoint file to a Record | (requires developer/SP 365 only) | |
| Configure to Check-Out (edit) file | (req. dev./SP 365 only) | |
| Configure to Collaborate (edit) file | | (default) |
| Configure to Check-In (done editing) file | (req. dev./SP 365 only) | |
| Copy file to folder or library | | |
| Copy file | | |
| Create file from ServiceNow record data onto file template | | |
| Delete file | | |
| Look-Up file details | | |
| Move file to another location in SharePoint | (SP 365 only) | |
| Edit file Metadata | (SP 365 only) | |
| Bulk Edit Metadata for multiple files | | |
| Turnkey packaged product requiring no coding | | |
Highest Levels of Security
Through our partnership with ServiceNow, all versions of DocIntegrator have inherited FedRAMP Moderate and High and US Department of Defense (DoD) Impact Level 5 (IL5) Provisional Authorization through the ServiceNow National Security Cloud (NSC) making Tasker the most secure work management tool available today.
DTech Apps + ServiceNow
Built on the ServiceNow platform, DocIntegrator helps organizations leverage and unlock their ServiceNow and SharePoint investments across the enterprise, keeping total cost ownership low and organizational productivity high.

ServiceNow Use Cases