Tasker
powered by ServiceNow
Task management made simple. Built for the public sector, trusted by companies of all types.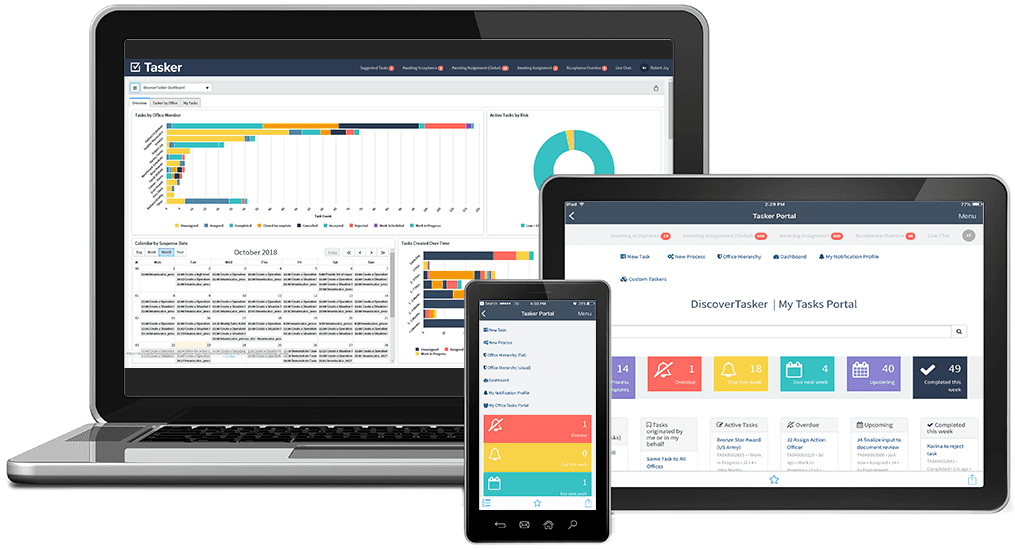 Accountability, efficiency and real-time task tracking. Easy to create and delegate — with everything you need to follow the action. Ditch email for better visibility and reporting
Unlike email, all Tasker actions are tracked and reported in real time, so assignments with deadlines don't suffer from drops and delays.

Full agency reach and
participation
Tasker reduces cost barriers and extends task and response capabilities across your agency or organization, not just to senior staff. Create and assign
tasks fast
Configure and go. With Tasker powered by ServiceNow, you don't need a developer or workflow specialist for ad hoc tasks.
Task management for the real world
No two tasks ever seem to be the same. Tasker addresses the ad hoc nature of process management and enables efficient task management across departments — with increased accountability, custom visibility, and innovative tracking and routing capabilities. Get real-time task status updates and realize time savings, as projects move securely from point of origin to completion.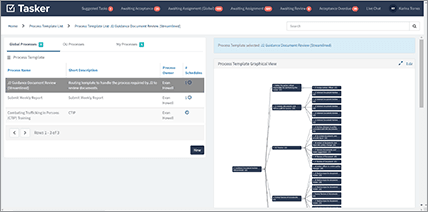 Save time and simplify with process templates
You're already 80% of the way there. Tasker makes it easy to get started with reusable process templates. Just open the template that best applies, provide a few details and launch your first task in minutes.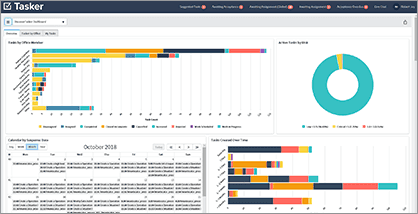 Easily manage everything in one interface
Create and assign tasks, add documents, configure rules and requirements, manage users, communicate, and track process status within the ServiceNow interface. No more wasting time in email or switching between multiple application windows.
Drive productivity, increase adoption and get results
Securely and efficiently route tasks across all levels of your agency or organization.
Save time with process templates, and improve accountability with increased visibility.
Reduce email and inefficient spreadsheet tasking.
Increase control and improve decision-making with end-to-end status reporting in real time.
Bring order and consistency to your processes, without losing control over impromptu tasking.
Eliminate problems associated with legacy, manual and unstructured processes.
Realize smooth implementation, transition and agency adoption with run-in-place capabilities.
Tasker use cases for public sector
Freedom of Information Act (FOIA) requests
Congressional/White House inquiry response
Declassification of information review
Correspondence tracking
Permit processing
Question for the record
Tasker use cases for commercial
Field reporting
Personnel action request
Flex schedule agreement
Project authorization
Training request
Travel authorization
Tasker powered by ServiceNow is for companies looking for a better way to handle task management and the ad hoc nature of today's operations. If this technology sounds like a fit for your organization, let's talk.