Tasker
powered by ServiceNow

®
Simple, secure, and configurable task management for Federal and Commercial clients
"What used to take hours now takes 15 minutes. This cuts document package approval time in half with one system of record." Ditch email for real-time reporting and communication
All Tasker activities are tracked and reported in real-time with automated notifications, reducing drops and delays.

Total visibility, accountability, and participation
Tasker enables efficient task assignment, delegation, routing, and management across departments. One-click task assignment and standardized processes
Tasker runs tasks and processes across departments or silos, and drives productivity across the enterprise.
Improving the lives of the modern global workforce
No two tasks are exactly the same. Tasker is a robust and flexible app, engineered to handle scheduled, unscheduled, ad-hoc, top-down, bottom-up, and lateral taskings.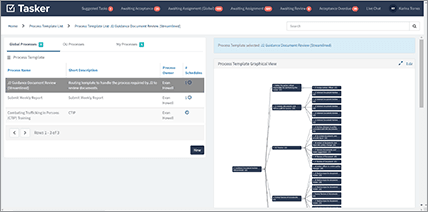 Drive productivity, reduce costs
Tasker makes it easy to get started with reusable process templates and scheduled processes. Open the template that best applies, provide a few details and launch your first task in minutes.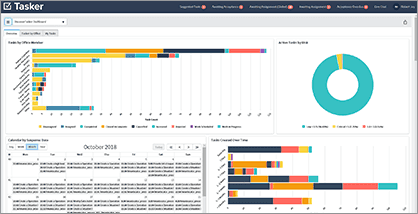 Manage everything in one place
Plug and play. Create and assign tasks, add documents, configure rules and requirements, manage users, communicate, and track process status within the ServiceNow platform.
Make better decisions today and plan ahead for tomorrow
Securely and efficiently route tasks across all levels of your agency or organization.
Save time with process templates and improve accountability with increased visibility.
Reduce email and inefficient spreadsheet tasking.
Increase control and improve decision-making with end-to-end status reporting in real-time.
Bring order and consistency to your processes without losing control over impromptu tasking.
Eliminate problems associated with legacy, manual, and unstructured processes.
Plug and play– minimal code required.
Monthly/Weekly Activity Reporting
Freedom of Information Act (FOIA) Requests
Congressional/White House Testimony and Inquiry
Records Declassification
Controlled Correspondence Tracking
Application Decommission and Archival
Major Defense Acquisition Programs (MDAP)
Quarterly Profit and Loss Reporting
Acquisition and Merger Management
Logistics and Supply Chain Management
Event Planning and Execution
Product Development
Monthly/Weekly Activity Reporting
Annual Employee Performance Review
Want to streamline, standardize, and manage your tasks?