Discover seamless content management
DocIntegrator seamlessly integrates disparate sources of content with ServiceNow including:
Enterprise Content Management (ECM) solutions – Microsoft SharePoint
Communication and collaboration tools – Microsoft Teams and email
Traditional file repositories – server storage folders, knowledge bases, and more
Create, collaborate, review, search, and sign documents inside any ServiceNow application (Tasker, HRSD, PPM, SPM, CSM, ITAM, ITSM, GRC, etc.) — without ever opening SharePoint in a new browser window or tab.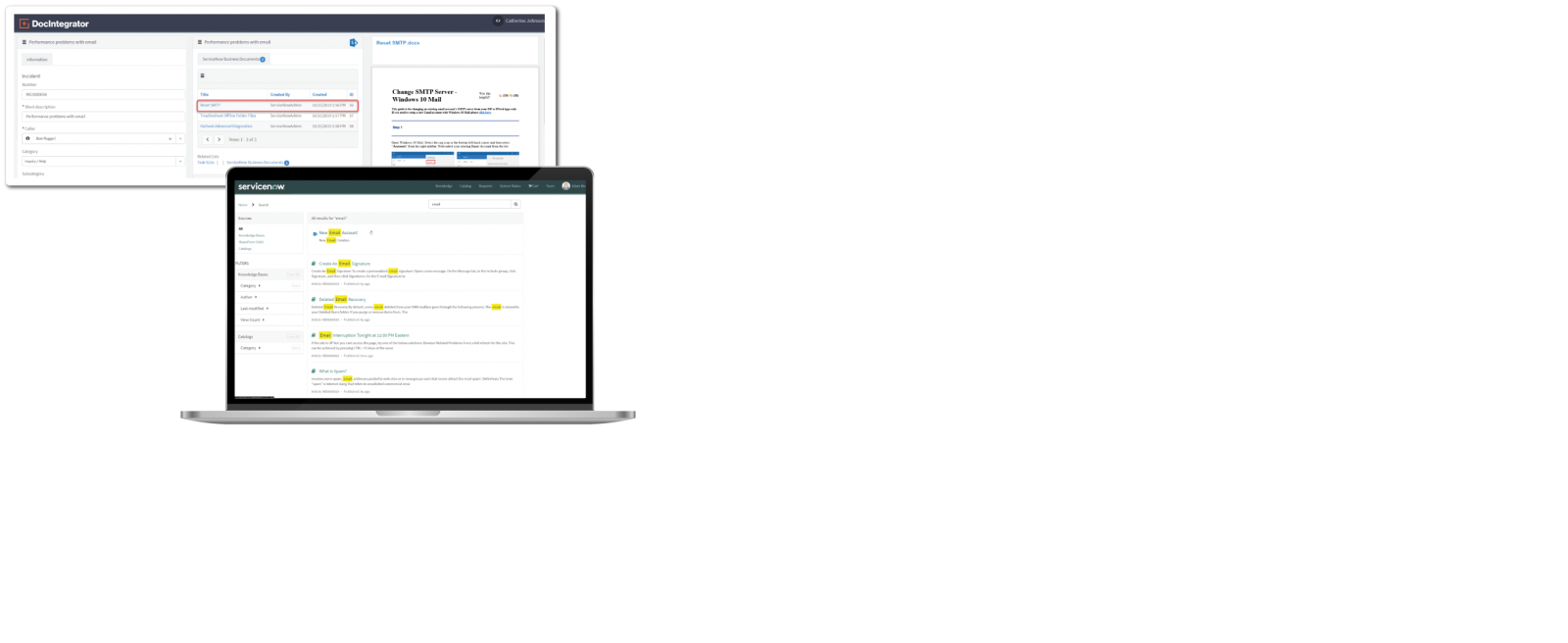 Modernize Document Management
Maximize Your ServiceNow investment Easy SharePoint document integration with ServiceNow enterprise applications.
Discover increased productivity Work seamlessly with SharePoint documents in ServiceNow applications, dashboards, workspaces and more. No more down/upload.
Enhance collaboration Work together on documents in real-time inside ServiceNow or Tasker. Get everyone on the same screen.
Save time and money to implement Built on Now platform so it's affordable and quick to implement. No coding required.
Affordable enterprise content management Used with Tasker, everyone manages documents inside tasks, seamlessly and economically.
The Ultimate ServiceNow + SharePoint App


Preserve SharePoint security and permissions
Maintains SharePoint's robust security, permissions and version control. Even for new documents created in ServiceNow or Tasker.
Associate managed content
Enable ServiceNow cases, incidents, and tasks to reference managed content in SharePoint.
Connect documents to any ServiceNow application
Connect SharePoint documents to a ServiceNow form, workspace, or app. Create new documents and save to SharePoint without leaving ServiceNow or Tasker.
Real-time document viewing and editing
View and edit SharePoint documents, including metadata without leaving ServiceNow.
Robust search capability
Search, view, and find documents quickly in ServiceNow using what you know, not constrained by SharePoint folder structures.
Automates document management
Upload, download, move documents automatically as part of a ServiceNow workflow or process.
Integrates with Tasker
Quickly see and work on all documents related to a task. Without going to SharePoint.
Learn about the document management benefits DocIntegrator offers.
Discover the document management capabilities of DocIntegrator.
Federal Use Cases
Monthly/Weekly Activity Reports
MDAP Congressional Documentation
Freedom of Information Requests (FOIA)
Case/Incident Document Review
Records Declassification Review
Procurement and Contract Review
Application Decommission and Archival
Commercial Use Cases
Case/Incident Review
Monthly/Weekly Status Reporting
Quarterly Profit and Loss Reporting
Acquisition and Merger Review
Policies and Procedures Changes
Event Planning Lists and Documentation
Product Documentation
Discover how productive your organization can be
See how the Tasker Suite improves outcomes for your organization with a custom demo.
Take this organization assessment to evaluate your organization's task management readiness.