Secure Enterprise Work Management Application Built Exclusively for ServiceNow
Leading organizations are taking control and eliminating chaos by moving from email, spreadsheets, shared folders, and complex workflow solutions to Tasker. By eliminating the silos and gaps of an unstructured work environment, employees and business leaders unlock lost productivity and see a faster return on investment from their people and systems.

Digitally Transform with Tasker on the ServiceNow platform.
Make better decisions faster Gain real-time visibility. See tasks like you've never seen them before.
Maximize your ServiceNow investment Extend ServiceNow capabilities across the enterprise.
Discover increased productivity Work transparently and efficiently. Manage tasks instead of tasks managing you.
Enable and enhance collaboration Chat, email, docs, status inside tasks being worked. Get everyone on the same screen.
Capture organizational knowledge and best practices Documenting previous tasks inside Tasker enables your organization to reuse, relate and learn best practices for any action or activity.
The Ultimate Work Management Solution
Built for Today's Enterprise Leveraging a New Generation of On-Premise, Remote, and Hybrid Teams and Staff
Manage Work More Efficiently
Easily create, assign, delegate, route, and manage tasks for any ServiceNow workflow. Utilize one-click assignments and easy task review and approval. Automate scheduled tasks. Transform and consolidate email requests, spreadsheets, and attachments into documented, trackable, and reportable tasks.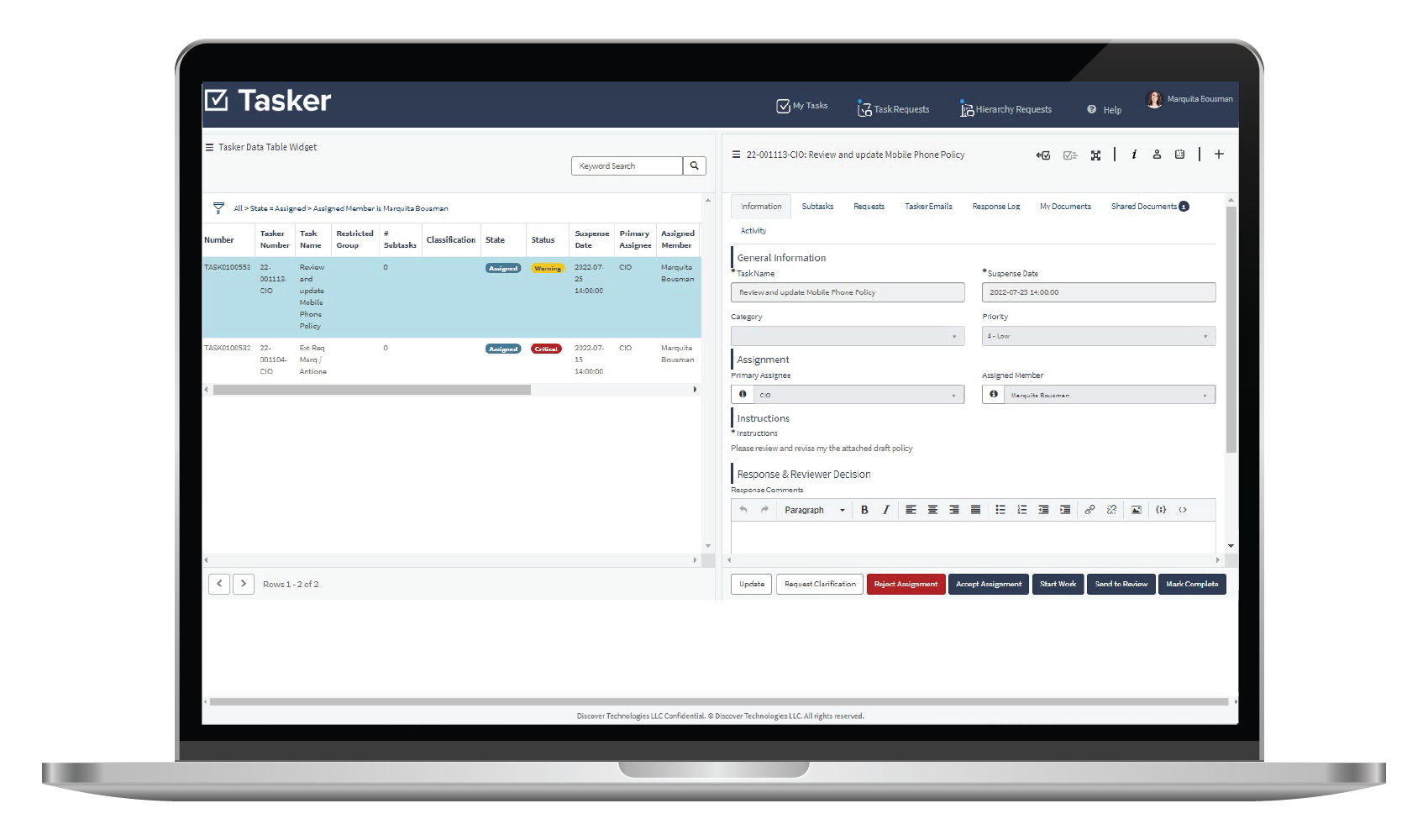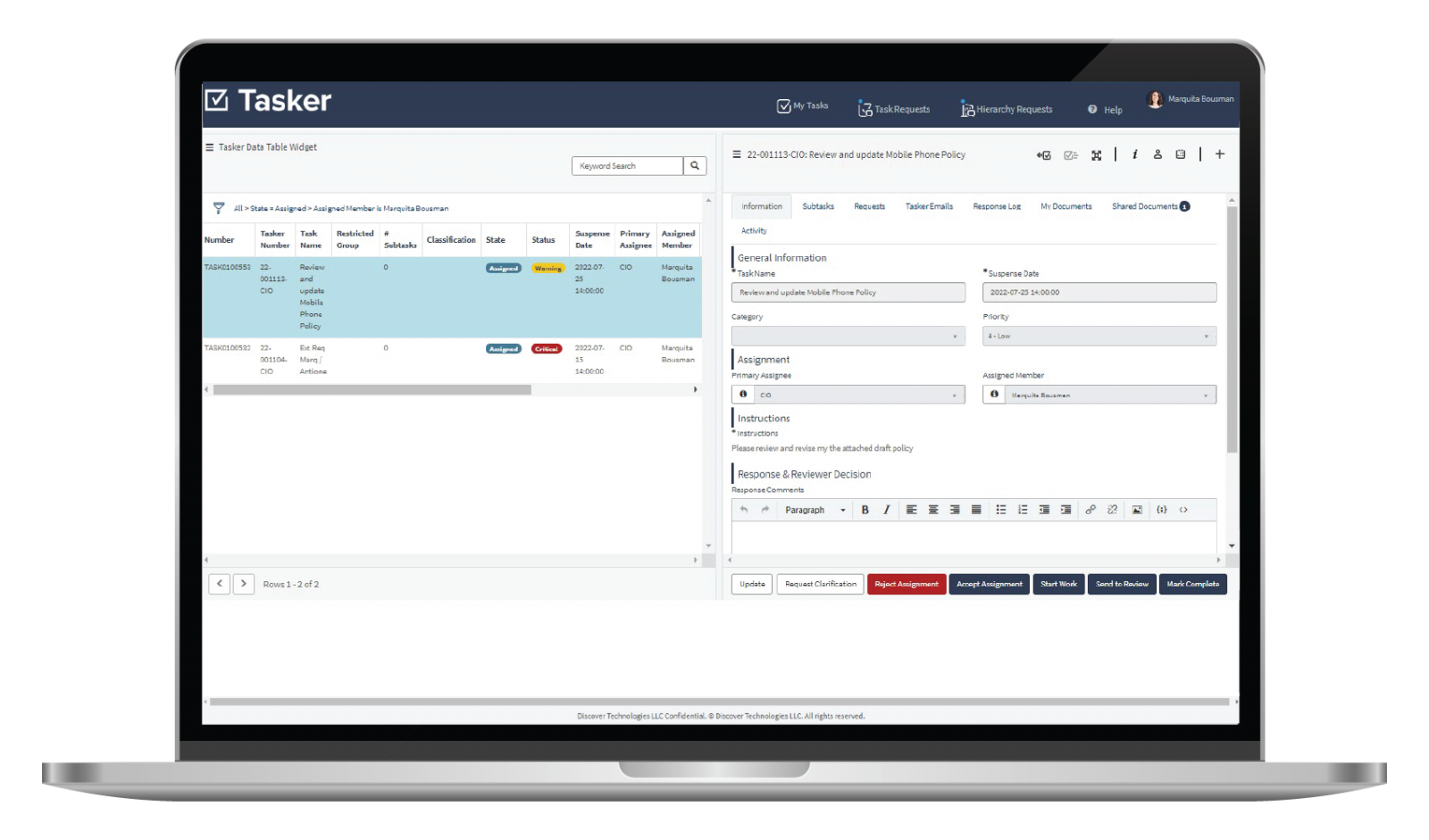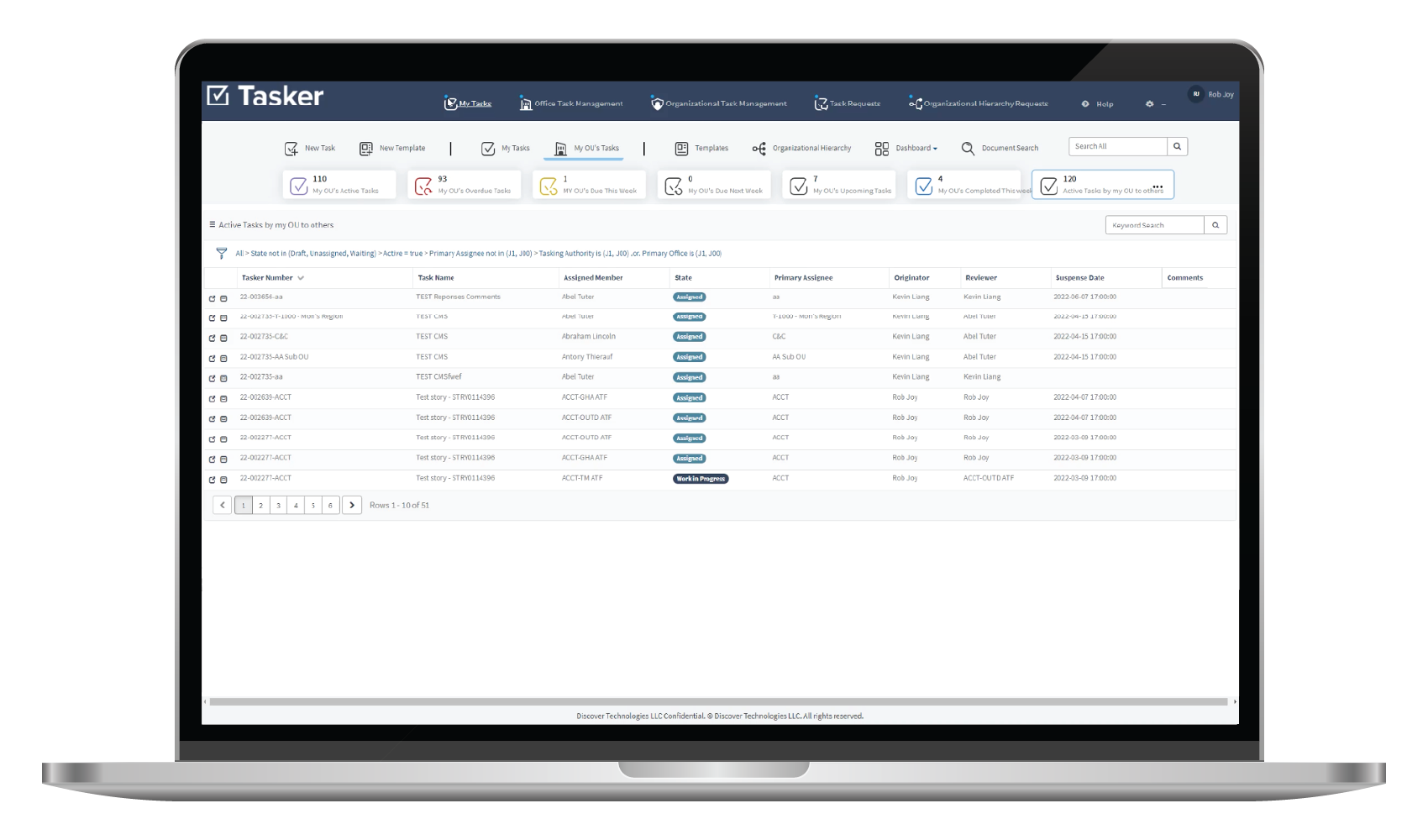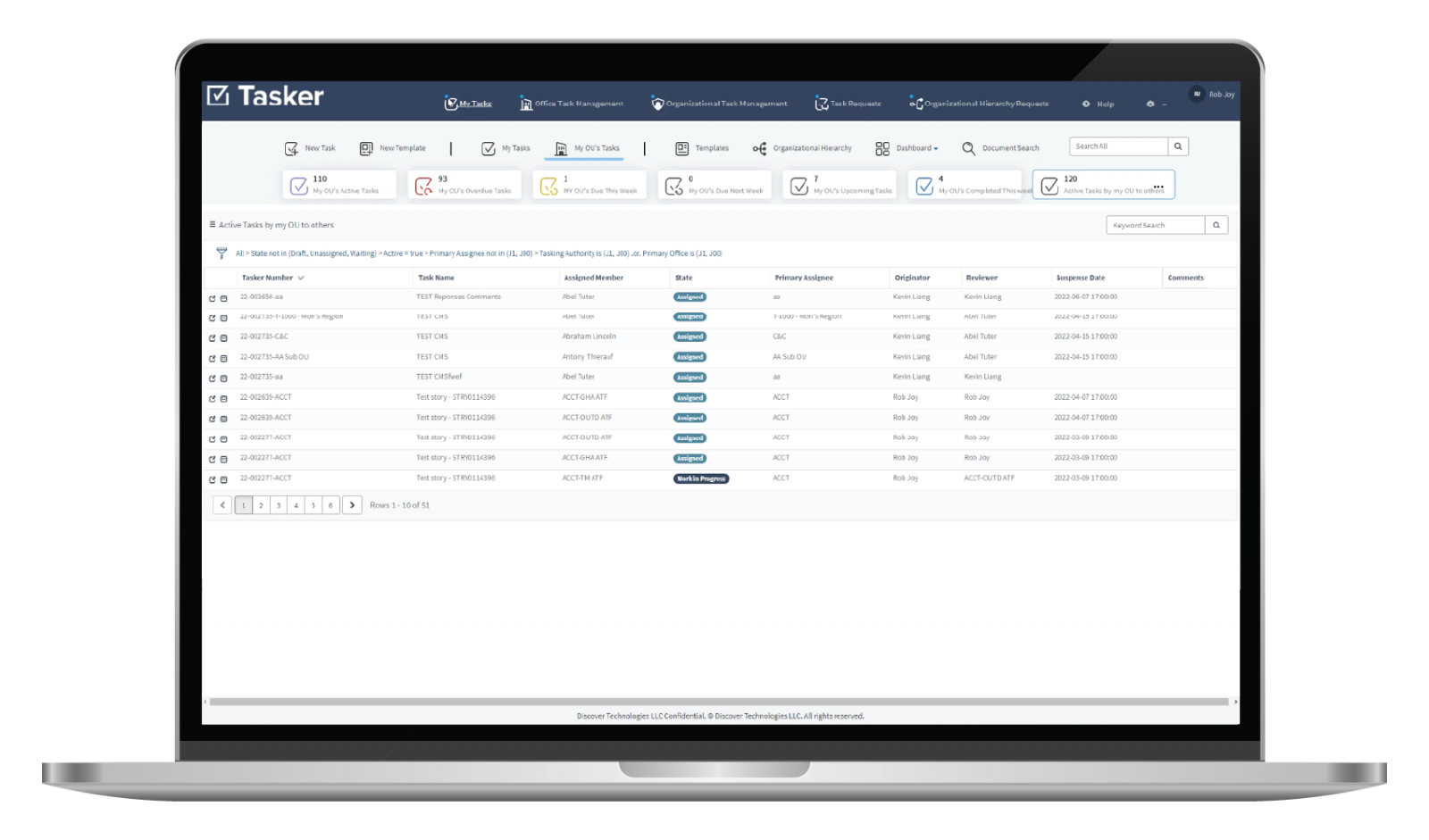 Tasker WorkUI™
Manage your work easily in once place with the Tasker WorkUI™. Designed with collaborative work management best practices in mind so your critical, ad-hoc, and routine work is completed regardless of location or device. Quickly find all your assigned and delegated tasks, projects, and work. Access each assignment, all attachments, approve, complete, or delegate with ease.
Reports & Dashboards
Robust and dynamic standard and custom dashboards capture the state of work being performed throughout the organization. Executives can review organizational performance while team and business unit leaders can see who is getting work done and where bottlenecks are impacting productivity. All dashboard data can be easily exported in one-click to .csv and .xlsx formats for further analysis and review.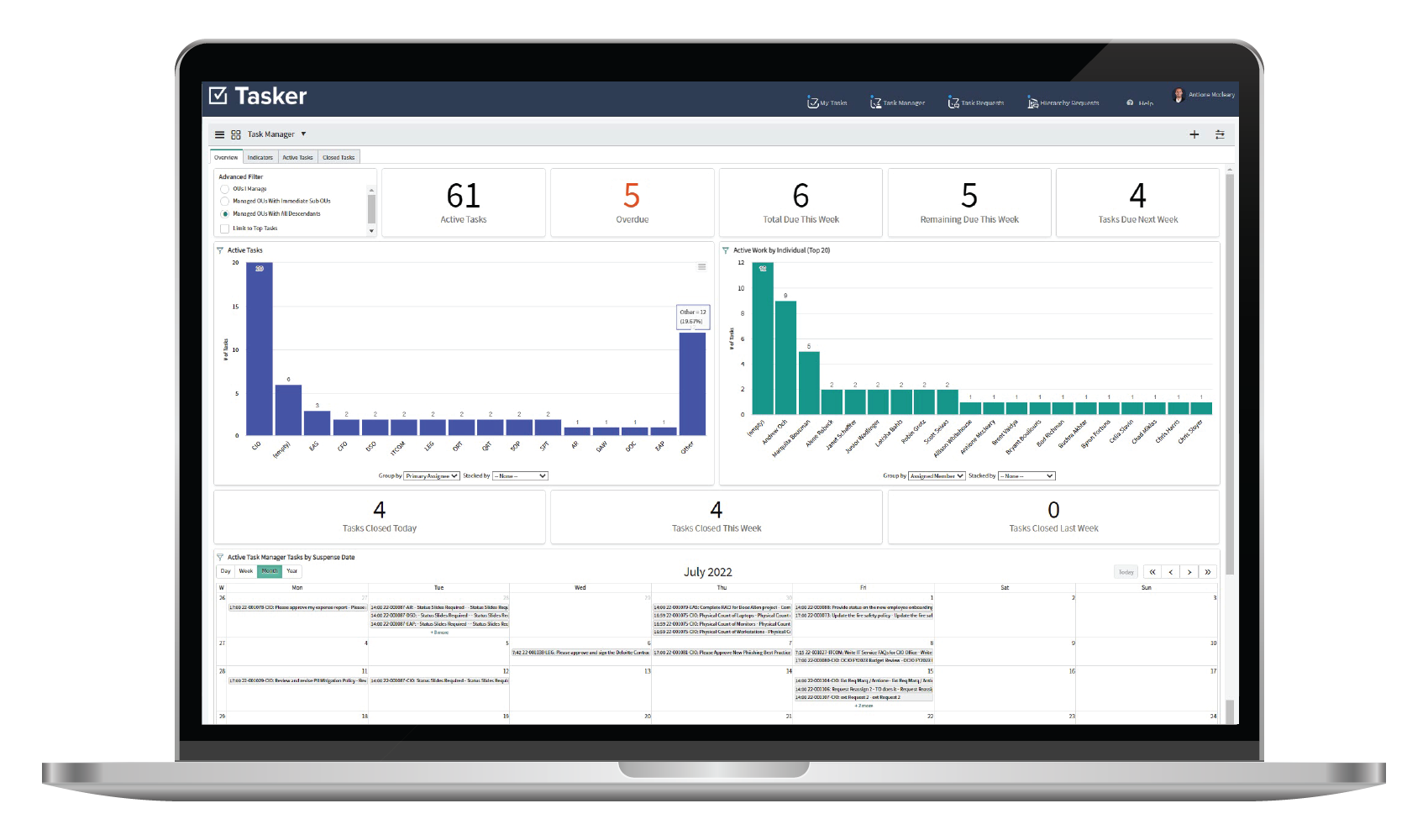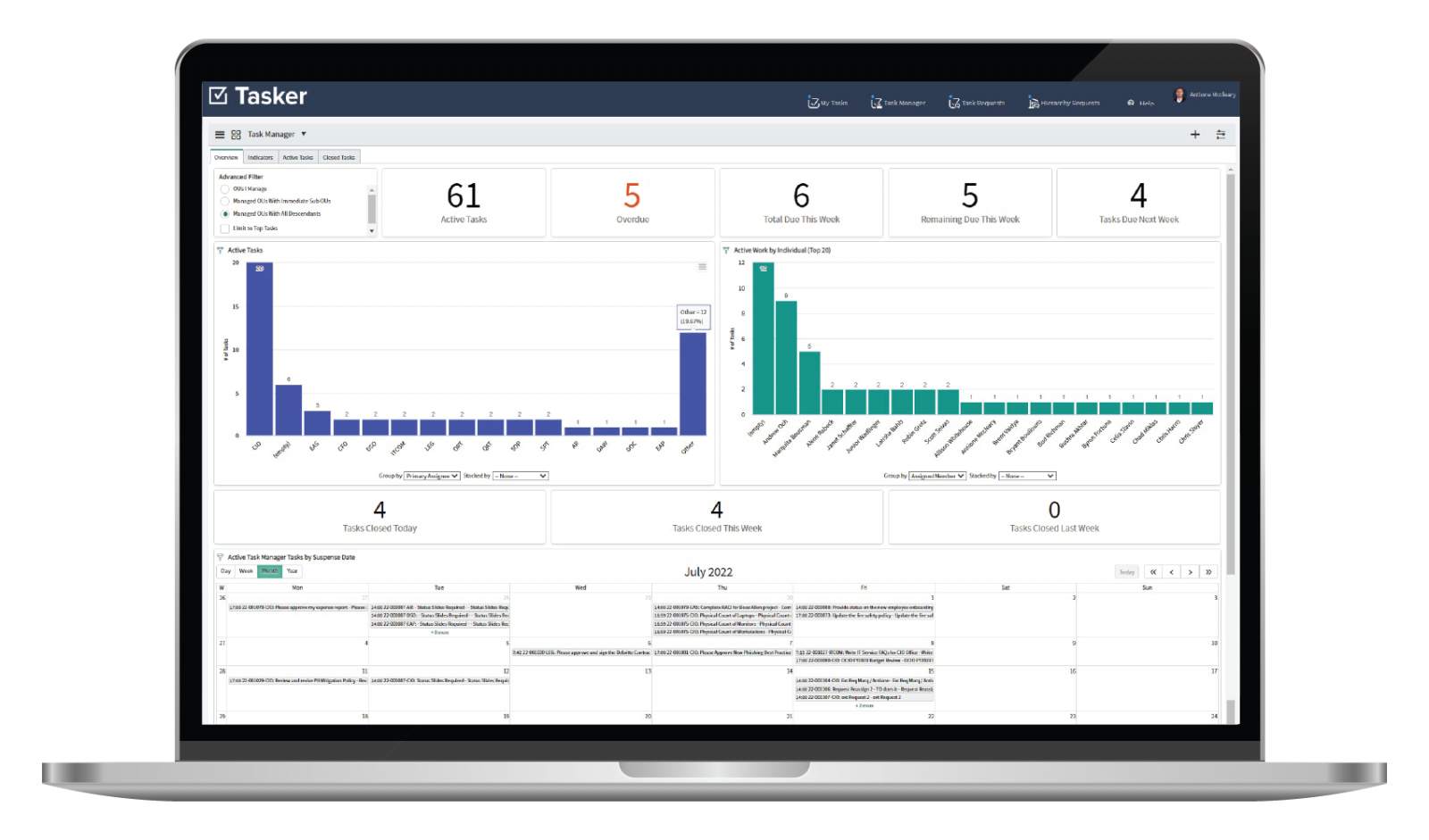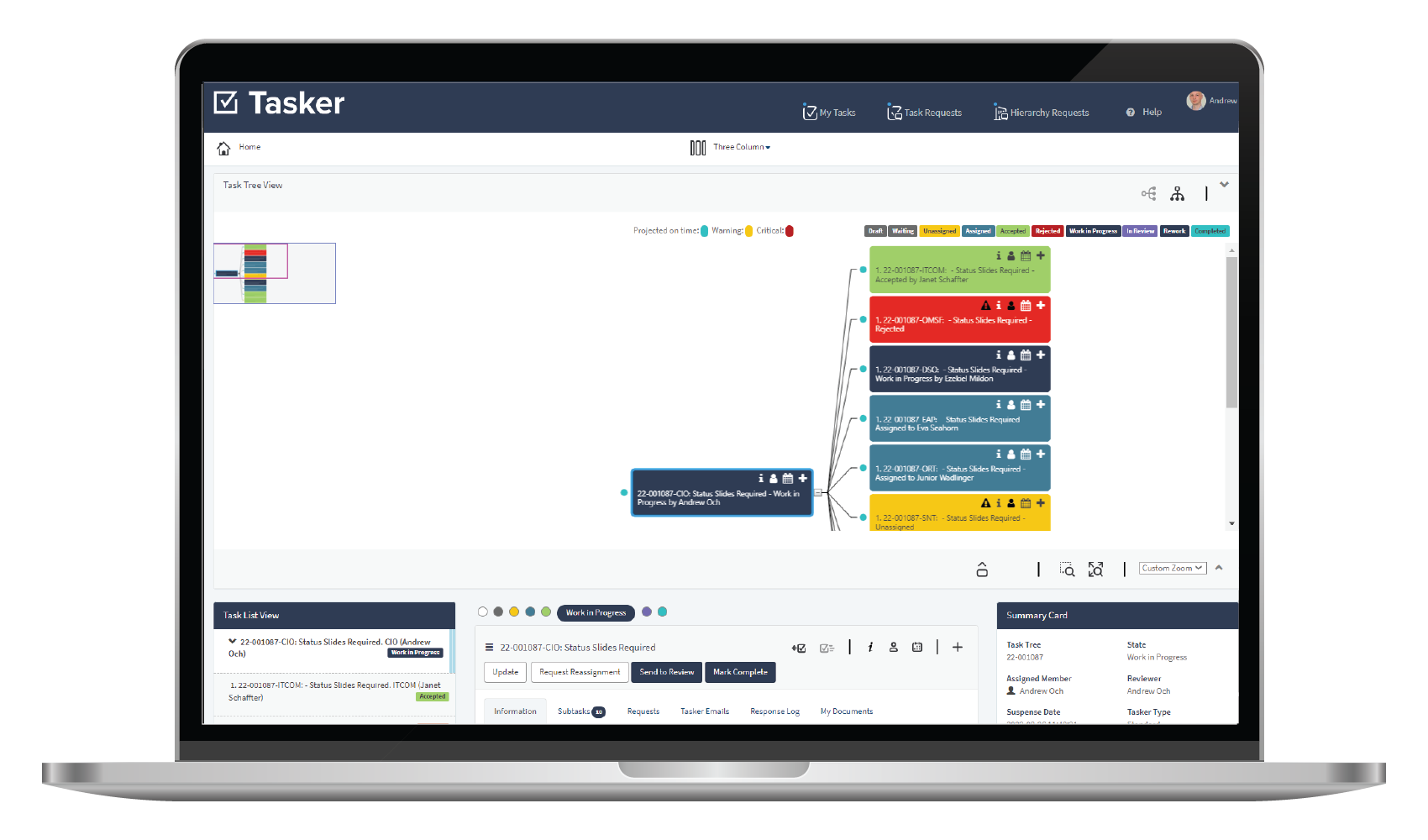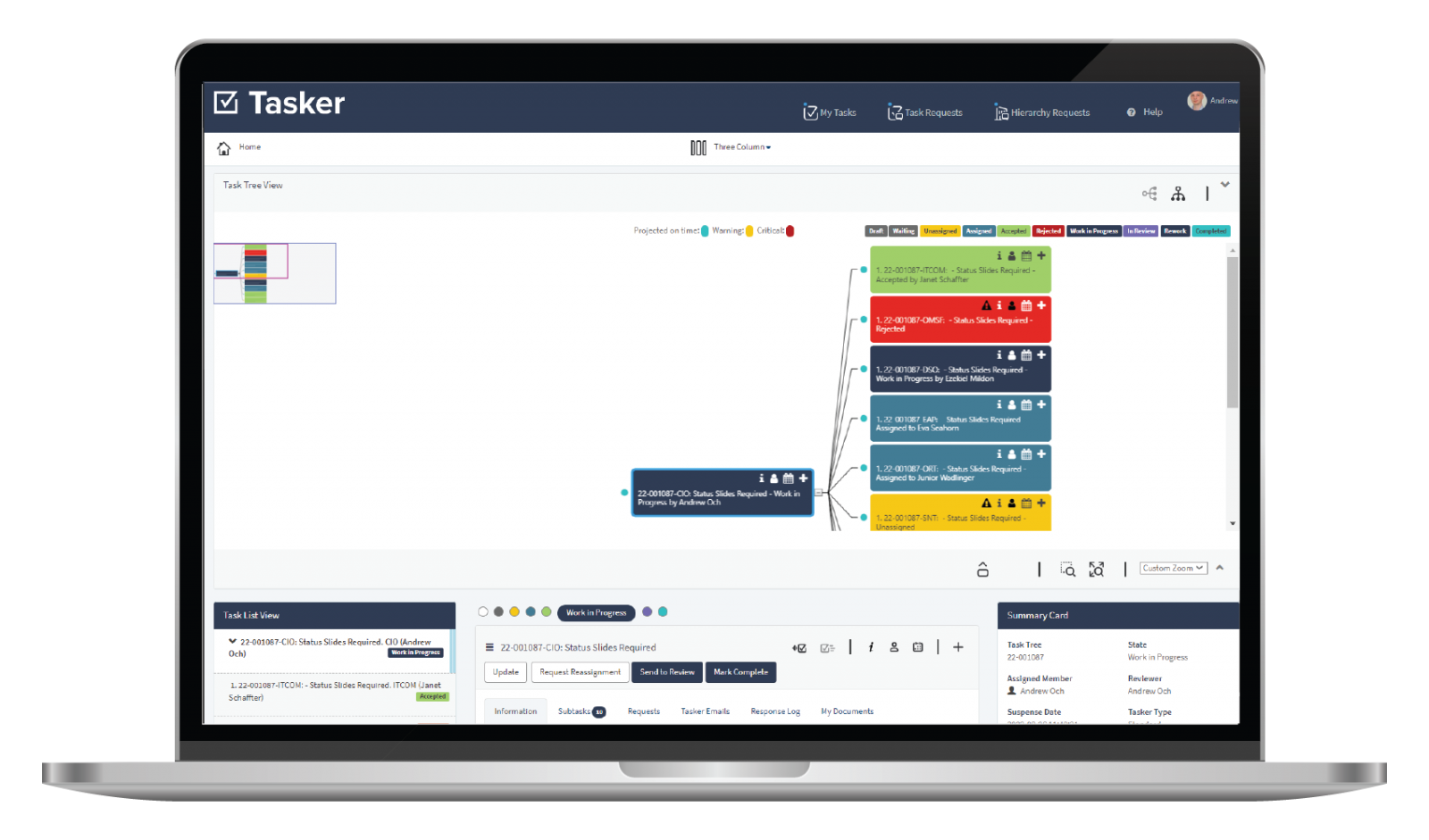 Intuitive TaskFlow™ Builder
Easily build complex tasks and projects using Tasker's unique TaskFlow Builder. Build and review templates in "task-tree" views. Quickly make tasks and subtasks, adjust assignments, or make ad-hoc changes to adjust for unexpected challenges or staff turnover. The flexibility and proactive features of Tasker ensure work is completed and nothing is lost when changes impact the market, business, or workforce.
Highest Levels of Security
Through our partnership with ServiceNow, all versions of Tasker have inherited FedRAMP Moderate and High and US Department of Defense (DOD) Impact Level 5 (IL5) Provisional Authorization through the ServiceNow National Security Cloud (NSC) making Tasker the most secure work management tool available today.
Mobile Access
Tasker delivers the robust experience of a desktop to the palm of your hand. From task management to reporting, users at all levels in an organization can easily work smarter and faster, anywhere at anytime, with Tasker Mobile.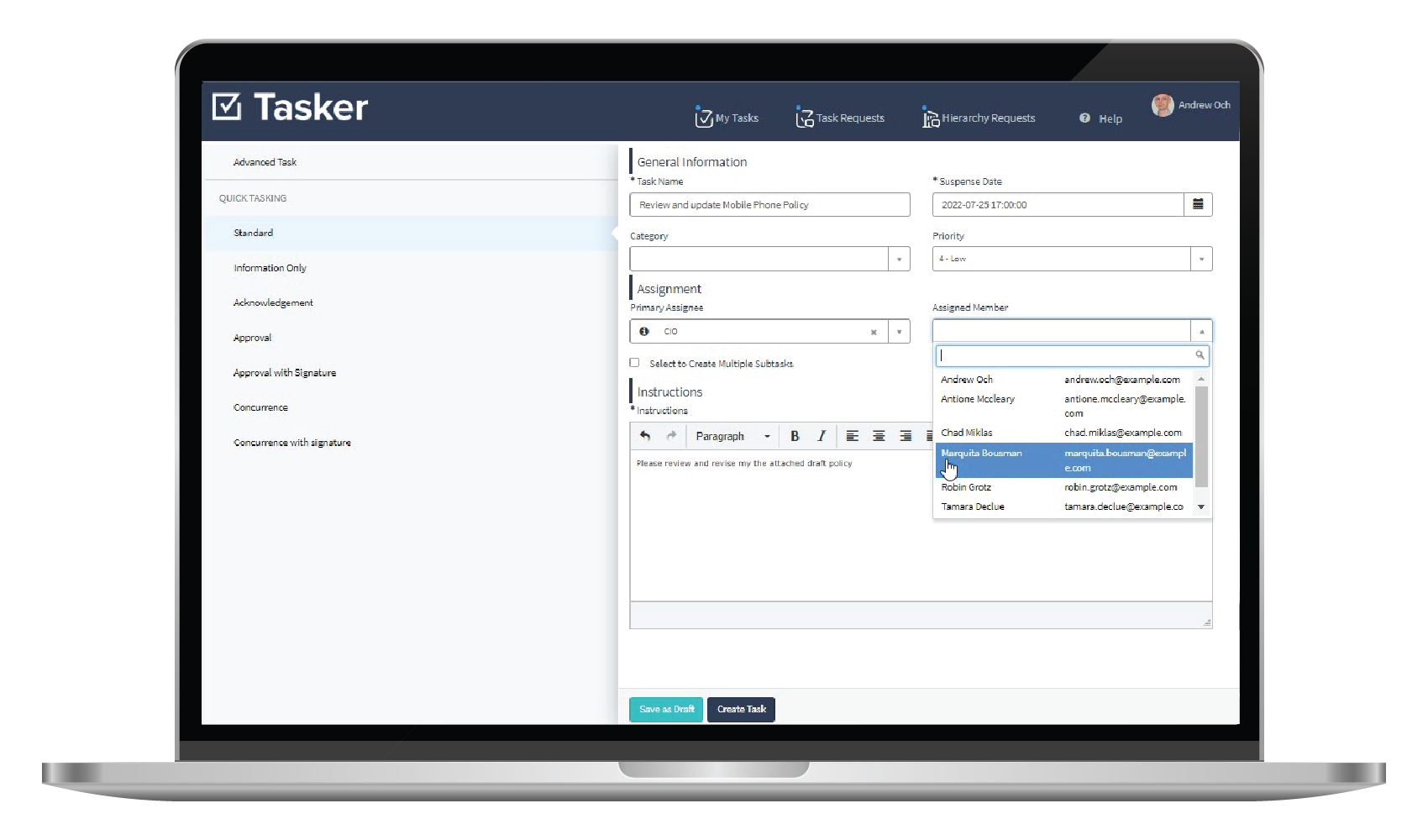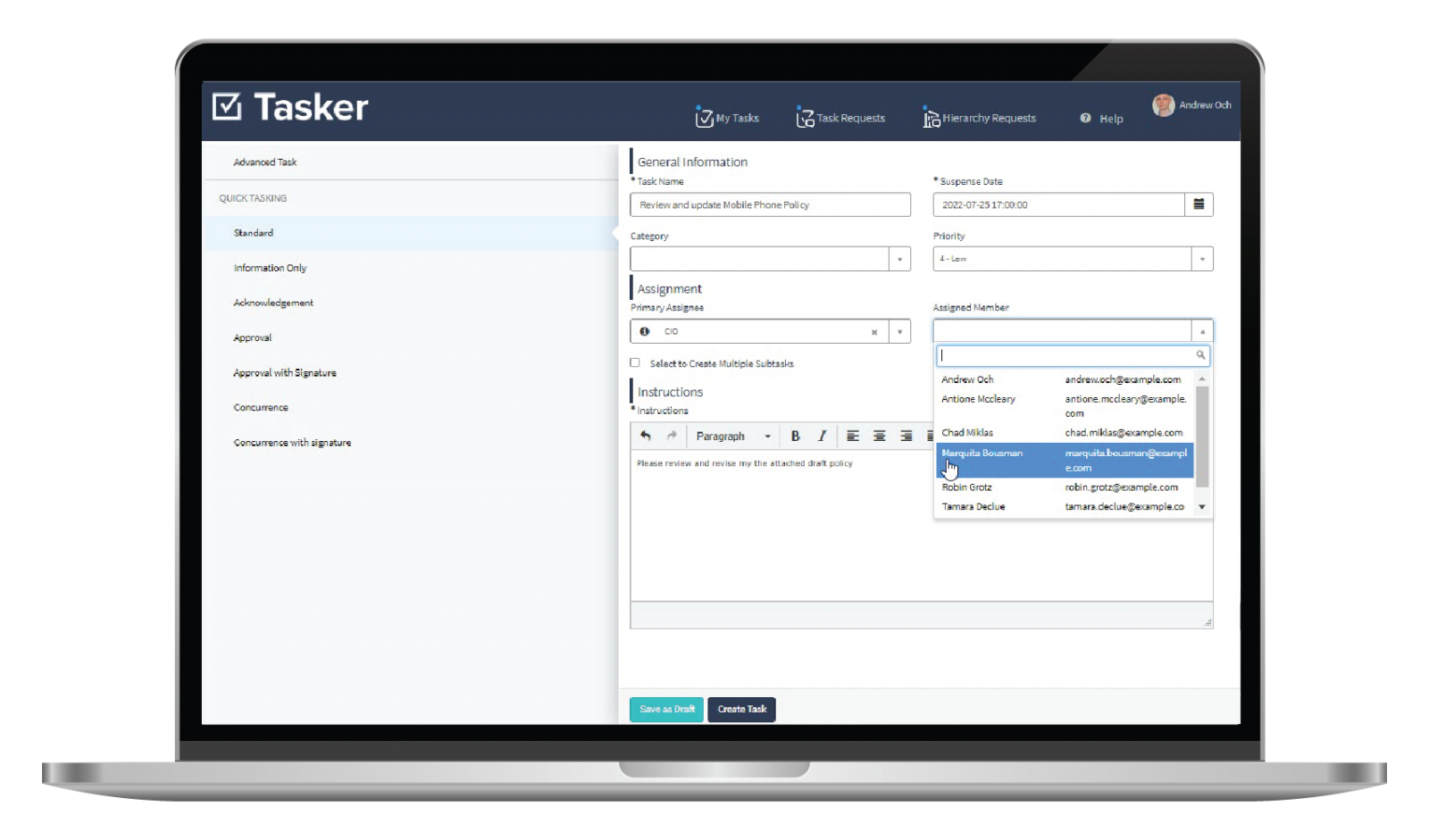 Templates
Leverage simple and robust task templates or build your own templates custom to your needs. Existing teams can customize and standardize work to be built just for them, and make it repeatable for the same scenario or multiple instances.
DTech Apps + ServiceNow
Built on the ServiceNow platform, Tasker helps organizations leverage and unlock their ServiceNow investment across the enterprise, keeping total cost ownership low and organizational productivity high.
Learn more about the benefits of modernizing work management using Tasker.
Take a deep dive into Tasker's modern work management capabilities.
Federal Use Cases
Monthly/Weekly Activity Reporting
Freedom of Information Act (FOIA) Requests
Congressional/White House Testimony and Inquiry
Records Declassification
Controlled Correspondence Tracking
Application Decommission and Archival
Major Defense Acquisition Programs (MDAP)
Commercial Use Cases
Quarterly Profit and Loss Reporting
Acquisition and Merger Management
Logistics and Supply Chain Management
Event Planning and Execution
Product Development
Monthly/Weekly Activity Reporting
Annual Employee Performance Review
Unlock Your Organization's Hidden Potential
See how the Tasker Suite improves outcomes for your organization with a custom demo.
Take this organization assessment to evaluate your organization's task management readiness.