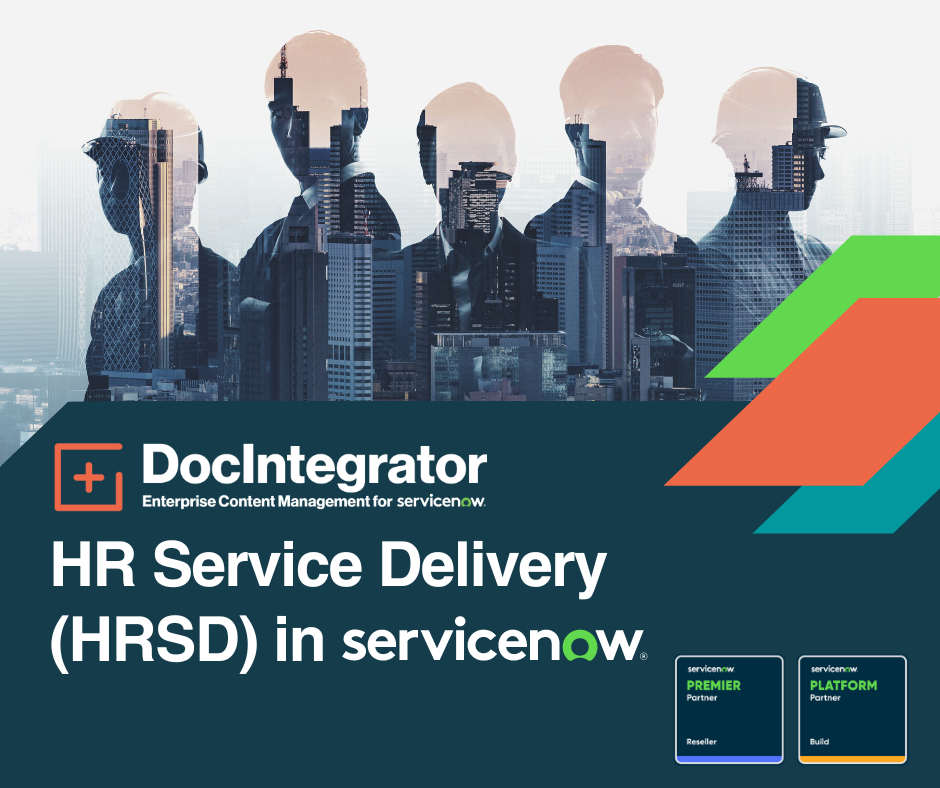 This article focuses on Connect ServiceNow to SharePoint DocIntegrator HRSD Use Case
What is HR Service Delivery (HRSD)?
HR service delivery (HRSD) encompasses the processes that facilitate and develop the employee experience from the time they are hired, to the time they resign or retire. The services involved include onboarding, onboarding, performance reviews, employee relations, distribution of payroll and benefits, answering managerial and executive requests, and much more. HR teams in most companies are often very small, consisting of 2 people per 100 employees, which means they are often pulled in many directions in their day-to-day work. Employees expect consistent communication and transparency regarding all aspects of their employment, and in today's competitive environment, companies must deliver in order to retain talent and keep employees engaged.
HRSD in ServiceNow
ServiceNow delivers scalable HRSD products that streamline the hybrid employee service experience, keeping them engaged, productive, and connected. Most importantly, HRSD in ServiceNow was designed from the ground-up with input from actual HR professionals. ServiceNow's key HRSD applications focus on onboarding, case management, and onboarding.
These applications are accessible through the Employee Center, where company intranets can be built on. The ServiceNow Employee Center creates a unified, role-based experience for managers (Manager Hub) and team members alike. It streamlines the employee experience by connecting departmental services, content, and systems in one centralized portal. The Employee Center gives users the ability to customize and streamline content for specific roles, job types, and locations. It also integrates with Microsoft Teams for quicker and easier communication, requests, submissions, and notifications.
How do the key Human Resource Service Delivery (HRSD) applications in ServiceNow operate within the Employee Center?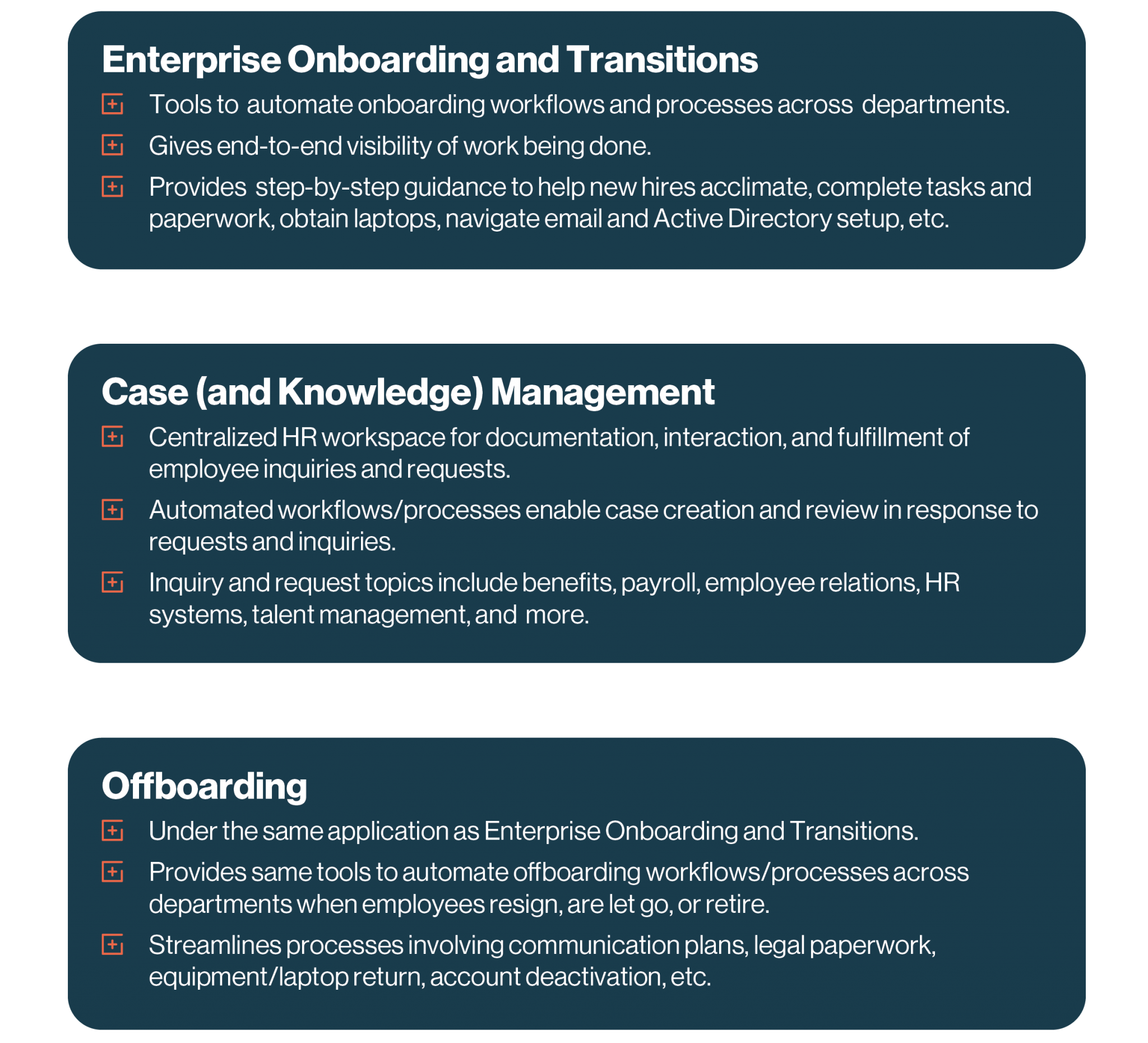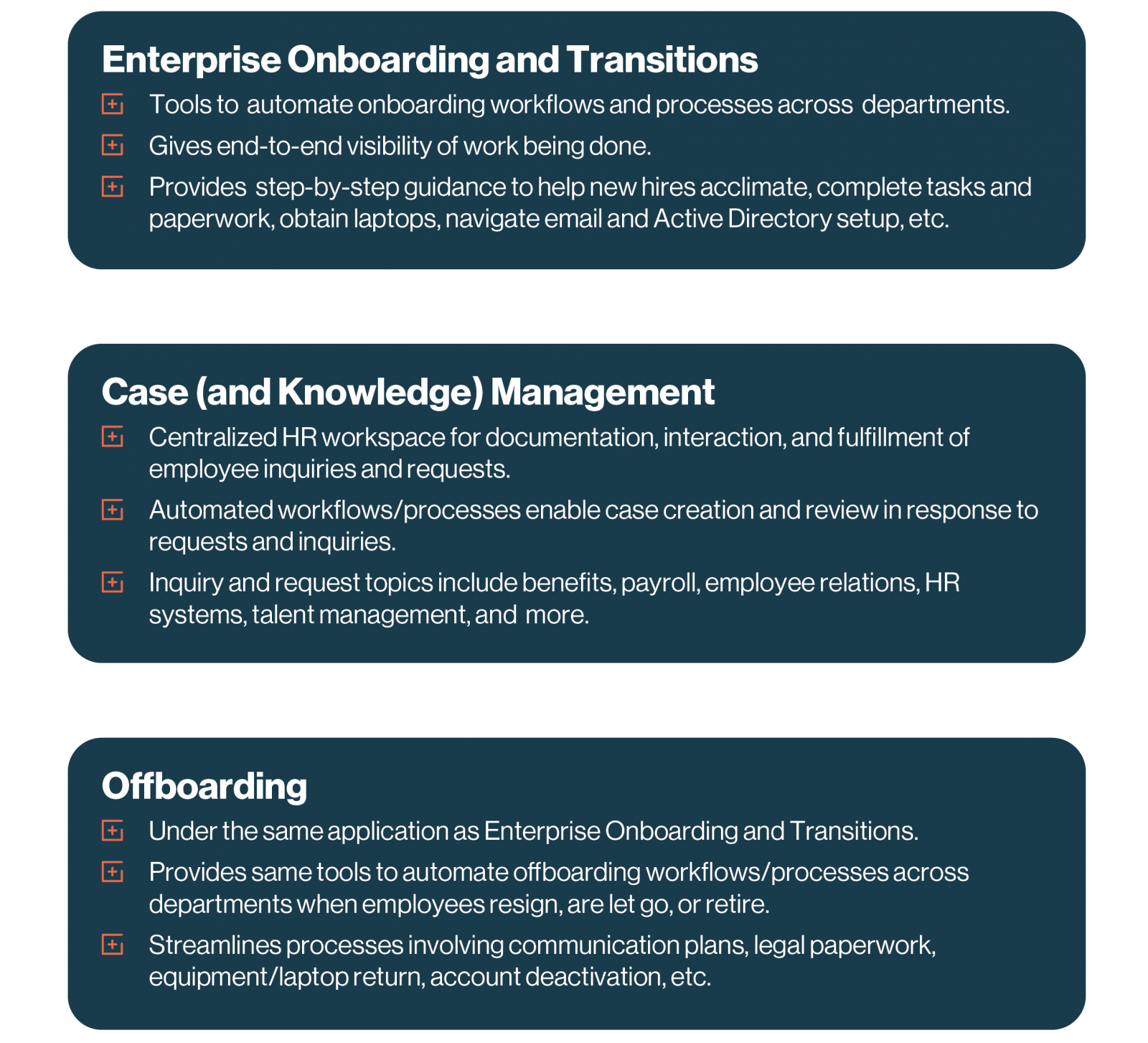 DocIntegrator Connects Microsoft SharePoint Directly to ServiceNow and Is Crucial to HRSD in ServiceNow
DocIntegrator connects ServiceNow to Microsoft® SharePoint. DocIntegrator is not a standalone application; it integrates with other ServiceNow applications, and Tasker, to enhance and extend their content management and search capabilities. DocIntegrator greatly improves the HRSD experience in onboarding, case management, and onboarding by making it easier for employees to access critical content and resources containing the knowledge and information they need.


DocIntegrator replaces ServiceNow's standard HR Document Management System with the "HR Documents" tab in the Employee Center. Using the HR Documents tab, users can create, edit, review, and approve documents directly in SharePoint (even those in different SharePoint environments or site collections). With a direct link from ServiceNow to SharePoint, all edits and changes update in real-time without users having to duplicate, download, and upload files from disparate sources in different windows. Users are always pointed to the correct version of their files.
By leveraging the organization's existing SharePoint permissions, DocIntegrator enables HR teams to work with peace-of-mind knowing that all existing confidential employee data and content (PII and PHI) remains secure, accurate, and protected. DocIntegrator removes the steps and pathways it takes to migrate and access content. From the viewpoint of the user, they are simply managing content and collaborating in ServiceNow with just a few clicks.
DocIntegrator also delivers enterprise federated search to any ServiceNow application. The federated search function works with ServiceNow HRSD applications and can be utilized by HR teams to conduct filtered and refined searches that return relevant results. These results are pulled from anywhere the user has permission to access, including SharePoint, Teams, email, knowledge bases, etc. Just type what you need into any ServiceNow content search bar and watch the magic unfold.