What is the difference between project management and task management?
You have likely heard the term "project management" and the core components associated with it (i.e. time, scope, cost). Project management is the management of a project and its resources throughout a project's entire lifecycle, from initiation and planning to execution and closure. In the most basic sense, project management is a body of tasks that are necessary to complete a project.
Task management is an essential piece to the project management puzzle. Tasks are units of work. While project management is looking at the bigger and more complex picture, task management breaks the project down into smaller, more manageable tasks with the goal of increasing productivity and efficiency. Task management tools can be utilized to track progress and facilitate efficient organization of workflow throughout the life of a project.
Task management is not specific to one project. In your day-to-day work, you are constantly organizing competing priorities in the form of tasks. Task management tools help you to prioritize, assign, track, and complete critical tasks. You can utilize task management tools without the need to delve further into an overarching project management solution.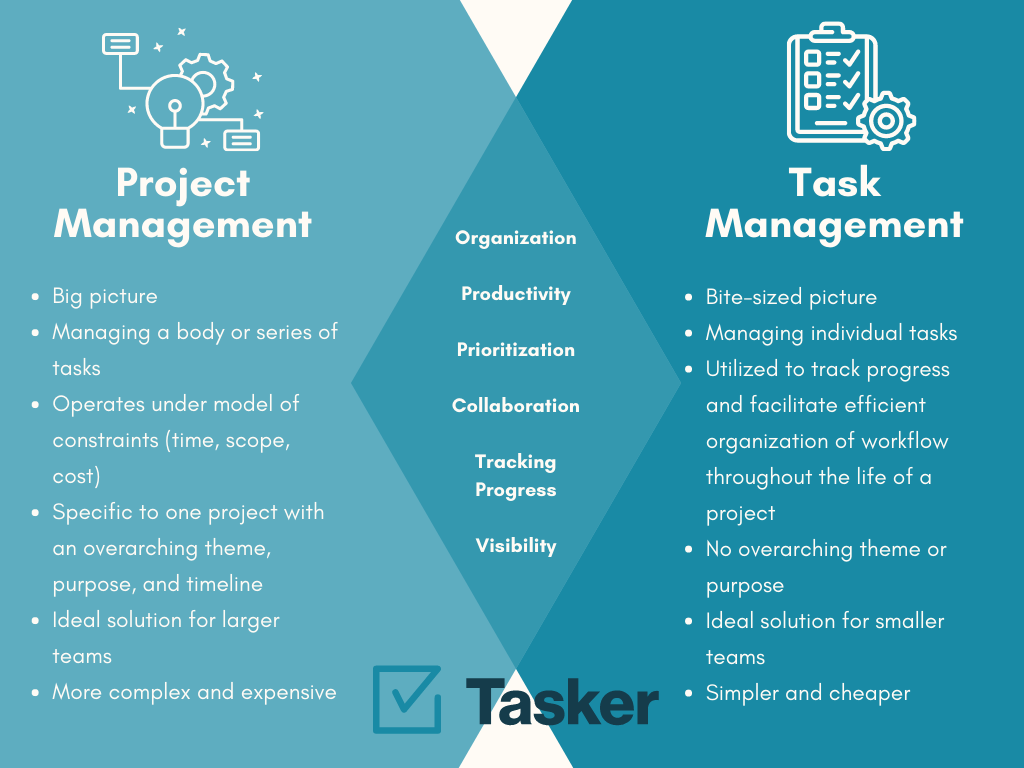 Why is task management important?
Without the use of a task management system, you run the risk of losing out on valuable time, productivity, and money. This is crucial to consider because 47% of IT professionals say that increasing productivity is the top IT investment trigger, only behind security. Any hindrances to productivity deal a heavy blow to project workflows and ROI.
If you have ever made a to-do list on a notepad, scribbled a reminder on a post-it, or sent an email requesting a document by a deadline, you have created and utilized a task management tool (in the most basic sense).
However, the average person reads and sends 200 emails a day – 144 of which (mostly CCs and BCCs) aren't relevant to their job. Reading and answering those emails add up to 2.5 hours a day. Add in the extra time it takes to sift through post-its, to-do lists, calendar reminders, etc. and half of your day is gone. That is not factoring in the time it takes to play catch-up on other work afterwards.
In a post pandemic-fueled world, the new normal of remote work has increased the need for secure and dynamic task management that enables adequate visibility for leadership and project teams to see what is getting done and when. Task management tools like Tasker bring people out of email and sticky notes and into a centralized system on a single screen to track and manage productivity in real-time.
Feel free to contact us or set up a Tasker demo. We are here to help!